On July 4th, the "Top 30 China Automobile Industry Companies in 2018" was released. BAIC Group ranked 4th in the list with its high-quality development in 2018.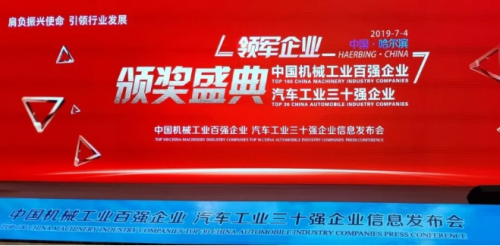 2018 Marks 60th anniversary of BAIC. In the new historical stage, BAIC Group ushered in a milestone breakthrough in many businesses. BAIC Group achieved annual revenue of 480.74 billion yuan in 2018, a year-on-year increase of 2.2%, and profit increased 7.3% from a year earlier. While the revenue and profits were doubled, it showed a high-quality development with a higher profit growth rate than the revenue growth rate. In addition, in 2018, BAIC Group achieved new growth in several complete auto fields; new energy vehicles continued to lead the industry, maintaining the champion in all-electric vehicle market for six consecutive years; the core competence of technology innovation was rapidly improved; strategy transformation and enterprise reform continued to deepen, with obvious effects; it played a more active role in major national strategies.
This series of achievements are inseparable from the accurate control of the strategy by BAIC Group, the commitment to innovation, the deep understanding of open ecology and the persistence of corporate responsibility.
Entering a new era, high-quality development has become a new task for Chinese enterprises. With the goal of "From Large to Strong, From China to World", BAIC Group has accelerated the implementation of strategy transformation, accelerated the high-quality development, and clarified the grand blueprint for building "Century BAIC".
In accordance with the requirements of high-quality development, BAIC Group regards "high, new and special" as the overall strategic direction for the future. "High" means high-end manufacturing, high-end products and high-end brands. BAIC Group will build a high-quality development foundation based on quality and brand. "New" means new energy and new technology of intelligent network. BAIC
Group will develop with "two-wheel drive" and activate high-quality development power. "Special" means the advantage of differentiation. BAIC Group will create comparative advantage of high-quality development with its feature products and services.
In the face of the upsurge of technological revolution and the ever-changing industry changes, BAIC Group has always adhered to the innovative concept of openness, integration and synergy, focusing on the breakthrough of electricization, intelligence, network and sharing, and firmly implements the innovation-driven development strategy, to continuously improve the core competitiveness and build a high-quality development of the "BAIC Road".
In 2018, BAIC Group's R&D investment accounted for 6.3% of operating revenue, and 4,105 new patents were granted. BAIC Group took the lead in building the first national new energy vehicle technology innovation center in the automobile industry in 2018, creating a world-class new energy technology innovation highland with all colleagues in the industry. BAIC Group takes the construction of Beiqi Research Institute as the core and realizes the effective integration of R&D resources. In line with the industry's "four modernizations" reform, BAIC Group establishes a development path of "two-wheel drive" of comprehensive new energy and intelligent network. BAIC takes AI technology as its core and builds its own brand 2.0 products including intelligent travel and intelligent road. The new energy products represented by EU5 brings a smart green travel experience with higher range, quality and intelligence. In 2018, off-road vehicle BJ80 of BAIC won the first prize of "China Automotive Industry Science and Technology Awards". Innovation has given "BAIC Manufacture" a strong driving force for continuous evolution.
Focusing on the synergetic development of Beijing-Tianjin-Hebei, BAIC actively participates in the preparation of major projects and optimizes the industrial layout. Along the "Belt and Road", BAIC Group has closely integrated its international development with national strategy, and actively explored the "going out" overall solution for Chinese auto companies. It has established complete vehicles and KD plants in more than 30 countries and regions around the world. To be the main force of Chinese autos from large to strong, to be international business card made in China in new era, to be listed on the Top 30 China Automobile Industry Companies, are the basic objectives of BAIC Group. In order to make further progress, BAIC Group will continue to adhere to high-quality development, comprehensively promote the "high, new, special" strategy, strengthen open cooperation, and lead the trends of times with a sustainable development.